Are you considering booking into Spring Harvest 2022 but waiting to see what happens this winter with COVID? Are you concerned about the booking cost after a difficult year? Do the dates on which our Spring Harvest breaks not coincide with your child's school holidays?

We know that some of you might have reservations about booking into Spring Harvest 2022 in advance.

However, with places filling up and an exciting line-up planned, we don't want anyone to miss out so in the meantime, we wanted to answer some concerns you might have about booking for Spring Harvest 2022 and reassure you that it's safe to book right now.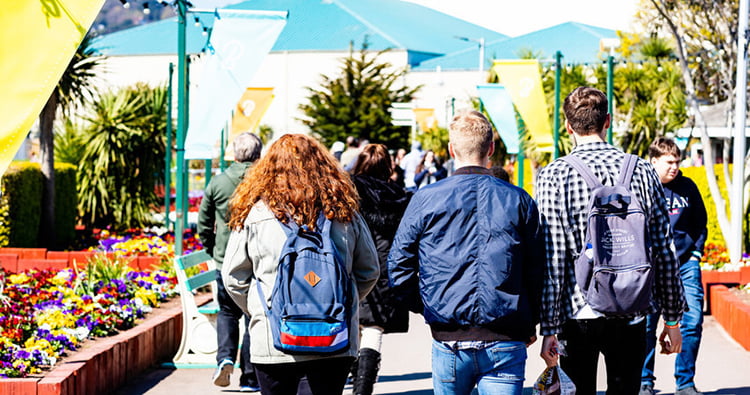 1. BOOKING PRICE
If you're concerned about what COVID restrictions might be in place next year, you can make your 2022 booking for our Butlin's breaks with confidence, thanks to our COVID Protection Guarantee. You can cancel your booking any time up to 72 hours before your holiday start-date and get every penny of your money back. If you'd prefer to head to Harrogate, we also offer a money back guarantee there as well!
Plus, you only need to pay a deposit now. There's no need to pay the full holiday balance straight away. You can simply pay a small deposit now to secure your place and pay the rest closer to the event.
So that's your money protected AND just a deposit to pay for the moment.
Don't forget if you're struggling financially after a difficult year, you can apply for our bursary and concessions scheme here. It's for anyone that finds it difficult to afford the full price for a booking. The bursary is there to make Spring Harvest accessible for everyone.
2. THE EFFECTS OF COVID-19
We want to reassure you that you'll be able to enjoy the Spring Harvest you know and love, with some added COVID safety measures.
Butlin's have successfully welcomed paying guests back to their sites since May this year. They have kept them extremely safe with a range of measures in public and private spaces. Whether guests are in their own chalets or together in venues like Studio 36 or Reds; guests have reported feeling safe and COVID cases have remained very low.
The team at the Harrogate Convention Centre have been doing the same, and we're working closely with our friends there and at Butlin's to make sure that our event is as safe as it can be.
In fact, we paid a visit to Butlins in Skegness to check out some of those safety measures.
Here's Cris Rogers, Chair of the Spring Harvest Planning Group, with more about the steps that are being taken to ensure your safety and comfort when you join us next April.
Note: this video was filmed in May. Safety measures may change based on national case numbers and risks to the public in indoor spaces.
Suffice to say, we're confident that both the Butlin's and Harrogate sites have adapted to keep all our guests safe next April, meaning that we can gather once again to worship, learn and laugh together.
3. EVENT DATES
One of the reasons you might not have booked in yet is that your children's school holidays don't coincide with the location you usually book into. In 2022, Spring Harvest Minehead will run for just one week rather than the usual two. For some of you, this means you won't be able to join us in Minehead, because of your children's Easter holiday dates.
Let us encourage you to consider joining us in Skegness instead. Skegness offers great teaching and worship exploring the same theme as Minehead, wonderful church community across the age ranges, and a unique, fun-filled experience for guests.
If you're not sure on our dates for next year, we'll be meeting together:
9-13 April in Harrogate
11-15 April in Skegness
18-22 April in Minehead
We hope you'll be able to join us for one of our breaks, whether that's a family-friendly event at Skegness and Minehead, or for something a little different as we re-imagine what our Harrogate event looks like. You can find out more about our Harrogate plans here.
If you have any other questions, then we'd encourage you to look at our FAQ's here. Or alternatively, give our friendly Customer Service team a call on: 01825 769000 and they can chat through any concerns you may have.
Ready to book a close-to-home break next April? We'd love to have you join us for Spring Harvest in 2022 for a week of worshipping, learning and laughing.
Book now to give you, your friends and your family something to look forward to next year!