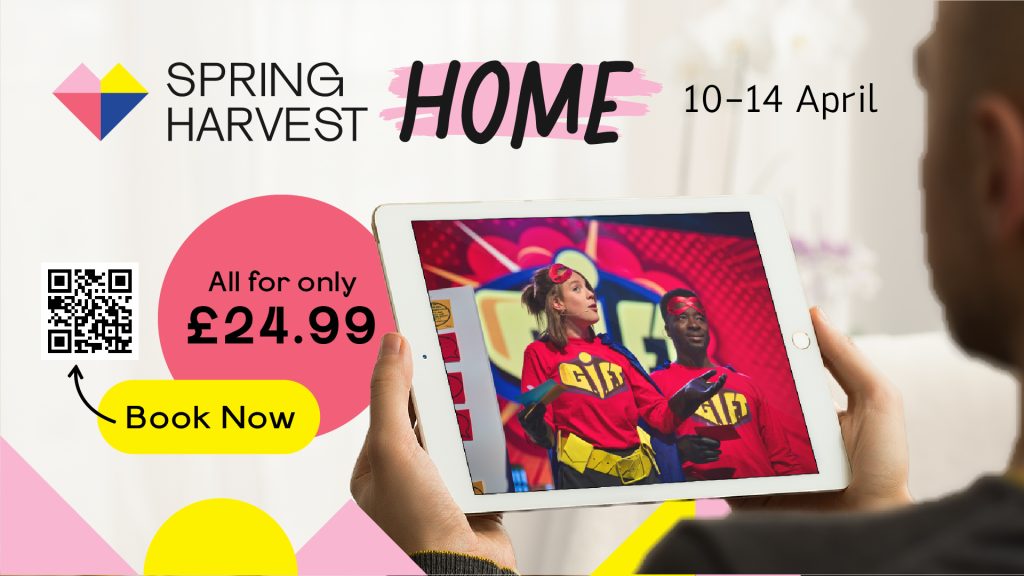 We want everyone to be able to come to Spring Harvest Home 2023, but we know that for some, technology can be a bit of a challenge!
The good news is you don't need to be a tech wizard to join us online, accessing the event couldn't be simpler.

We've answered some popular technology questions in the hope that everyone will feel confident in joining us online at Spring Harvest Home 2023 between 10th - 14th April.
HOW DO I WATCH SPRING HARVEST HOME '23?
Simply visit the web address and enter your unique code, that we will send to you at the beginning of April. The event will be well laid out with a simple watch page that will automatically play the live sessions for you. You can watch on any device that connects to the internet including a mobile phone, iPad/tablet, Smart TV, laptop or desktop computer.
IS IT LIKE YOUTUBE?
Spring Harvest Home is being played on a website which is a bit like YouTube. The website platform is called CrowdConnect and it's really similar to YouTube in terms of layout but has lots of added perks including an on-demand section. This means you can catch up on anything you've missed or want to re-watch at your leisure.
HOW DO I SHARE MY ADDITIONAL DEVICE LOGIN WITH OTHER PEOPLE?
You can share your Spring Harvest Home ticket with one other person. All they need to do is visit the web address and enter your unique code, that we will send to you at the beginning of April.
With your additional Spring Harvest Home login, all devices do not need to be on the same WIFI network, you can select where they are used and on what device, but obviously if they are in the same household, it is easier to keep track of how many are logged in, than if you share your ticket with someone outside of your household.
What happens if you exceed the 2 logins? Users can either select the browser/device to disconnect or clear all devices and log back in. This can happen when you are logged in on more than 2 browser windows on the same device.
HOW CAN I WATCH ON MY TV?
The platform can easily be 'cast' onto your Smart TV using Chromecast or Apple TV. With other types of smart device or TV, there are other ways to get the content from a web browser onto your TV screen – using 'mirroring' or even a cable from device to TV.
I HAVE A SMART TV; CAN I WATCH ON THERE?
Most Smart TVs include a web browser among the preinstalled apps that come with the TV. These web browsers may not be exactly like the desktop web browsers you're familiar with, (e.g. Internet Explorer, Google Chrome, Safari), but they are compatible with the standards that websites use and can display websites on your TV screen.
Browsing the web on your TV can be a bit of a challenge though. Unless you can add on a wireless keyboard which are rarely included with TVs, you'll be using the TV remote control to navigate to websites.
HOW DO I BROWSE THE INTERNET ON MY SMART TV?
The basic process for accessing an internet browser on most Smart TV's is:
- Your Smart TV will need to be connected to the internet by Wi-Fi or cable connection.
- On the TV remote control, press the HOME or MENU button.
- Use the arrow buttons on the remote control to select Apps.
- Navigate with arrow buttons to look for internet browser.
- When you open internet browser, it will load the default Start Page.
HAVE YOU BOUGHT A TICKET YET?
We can't wait to show you Spring Harvest Home 2023. It's going to be amazing. If you haven't bought a ticket yet there's still time!