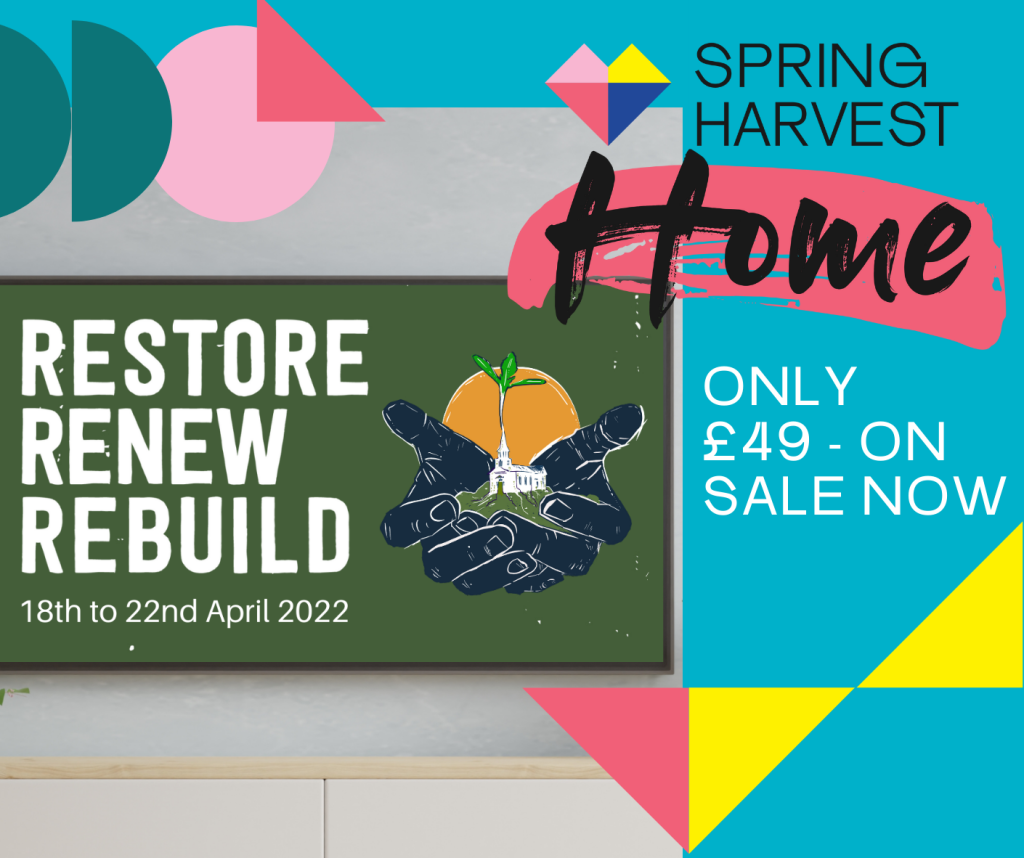 Due to popular demand, Spring Harvest Home is back for 2022. Taking place at the same time as Spring Harvest in Minehead, our streaming website will bring incredible worship, fun kids sessions and insightful teaching directly to you in your living room. Featuring a combination of live sessions and pre-recorded videos, you'll experience the essence of Spring Harvest without having to leave your home.
It's going to be an incredible time. If you can't come to Minehead or Skegness why not join us online?
Tickets are just £49 and are on sale NOW!
Important note: If you are booked to attend Spring Harvest at either Minehead or Skegness, you will receive access to Spring Harvest Home for free. Information on how to access the event will be sent to you in early April.
What is Spring Harvest Home '22
Spring Harvest Home is an online event streamed at the same time as our physical event in Minehead. It will be streamed on a website only accessible by people who have bought a ticket.
When is Spring Harvest Home '22 happening?
18th – 22nd April
How much does it cost?
We are selling two types of ticket. Standard tickets are £49. A Spring Harvest Home Plus ticket costs £74. The 'plus' part is that you receive discounted access to EC-GO, our online resources streaming website for a whole year for just £25 (normally £65 per year).
What will I be able to watch?
This year, we're streaming live from Minehead with a studio overlooking the beach so that you get to see the views of the site and of Minehead if you're not able to be with us this year! We'll be playing some sessions from Minehead including the Big Start celebration, a morning Bible teaching, a daily Youth Celebration and the Evening Celebration. We'll also be playing some of the sessions from Skegness '22 too.
We'll be bringing you the parts of Spring Harvest that mean the most to you in the morning, and then in the afternoon we're going to bring you content you can choose to watch with our on-demand service. In the evening, you'll be able to worship with us from the new venues.
Are there any breaks in the schedule?
On site at Spring Harvest there is so much to do and to see – so in the afternoon, we're going to be out and about on site enjoying the ministry and teaching. However, that doesn't mean there's nothing to watch. There will be OnDemand videos to watch when we're not streaming live. But, if you do want a break you might want to take those afternoons too and use them to get some fresh air or take time away from the screens, then re-join us in the evening.
When will the streaming website be live?
More details to follow, we'll email you about this when you buy a ticket.
How many devices can I use my SH Home ticket on at the same time?
Yes, you can use your ticket to log in to two different devices at the same time. This means that another person can watch SH Home'22 on their device too!
How long will I be able to watch the videos from Spring Harvest Home after the event is finished?
All videos will be available to watch until the 8th May 2022. At that point, all videos will move permanently to our teaching resources streaming website, EC-GO. If you buy the 'plus' ticket you'll then be able to watch the Spring Harvest Home videos on ECGO for a whole year.
How do I log in to the event once I've purchased a ticket?
When you buy a ticket, we'll keep you updated with important details such as how to log-in and how to make the most of your Spring Harvest Home experience. We're still getting the streaming website ready so that you have a great time with us.
The history of Spring Harvest Home
Pioneering in the 2020 Lockdown, Spring Harvest Home brought you as much of the event as we could with two weeks' notice. During that event we received amazing stories of God moving in people's lives as we equipped the church through YouTube and saw 187,000 devices connect and 250,000 hours of teaching watched in that week.
It was truly amazing and to know that God touched lives even though we couldn't be together was awe-inspiring. Again in 2021, we had to make the call to just be online as lockdowns once again hampered our hope to be together. This time we had developed our own digital platform 'CrowdConnect' and were able to deliver our event from 4 locations simultaneously to reach thousands online and on demand. We had worship leaders from 5 countries join us and our event was picked up and broadcast live not only on the internet but also on the radio through UCB.