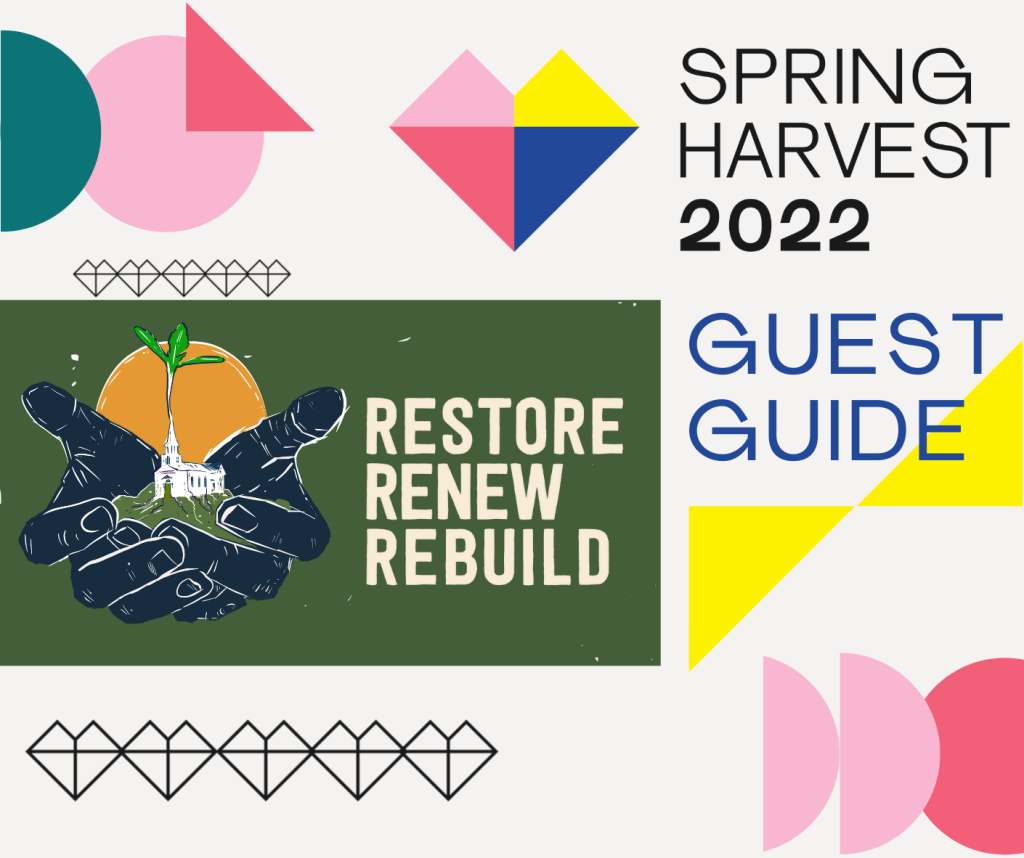 Are you looking for important Spring Harvest event info? Look no further. Here are some answers to all the things we get asked on social media and in emails.
We also have an FAQ page too so if you can't find the right answer here then visit that page.
Register your kids for their sessions
If you are coming to Spring Harvest with anyone aged 18 or under this April, we wanted to remind you to please register them onto their relevant programme so we can make them welcome in their programme. Simply click the button below to do this!
For children in Kids 0-4, 5-7 or 8-11, the first part of registration is to fill in the online form. Registration is then completed from 3pm on Day 1 at the programme venue by confirming a few details. Your child will then be placed in an appropriate small group.
For those in the youth programme (11-14, 15-18) you only need complete the online form.
If you do experience any problems completing your online registration, please contact our friendly customer service team below for assistance.
Register for the event app
Our Event Apps are where guests will find the week's programme for Skegness and Minehead. There's also loads of other helpful and insightful features too!
YOU CAN NOW GET IT FOR YOUR PHONE OR TABLET
We'd really encourage you to register for your site specific app. It's FREE and so easy to use. If you want to get the app in good time before you come to Spring Harvest, all you have to do is register using the buttons below.
TOP TIP, for the best experience use your phone or tablet to register.
When you register with your email address, you'll see the following instructions:
Remember your event event-specific code.
Download the app using the links in the register page.
Open the app once it's installed on your device.
Allow the app to take pictures (we don't actually do this but so that the app works we need you to agree)
Use the event-specific code 
Log in to the app using the email address and password you created. 
Share Spring Harvest
We've been busy planning next year's Easter events at Skegness and Minehead, and have gathered advice from Group Organisers on how to make the booking process as easy as possible. Before you start, take a few minutes to read through the tips and information in the pack, which you can download by clicking the button below. We've also included an advert if you'd like to include it in your church news and a social post for sharing online. Thanks for helping us spread the word!
Our Covid policy
The safety of our guests is of paramount importance to Butlin's and to us. Butlin's have developed procedures to maximise safety with minimal detrimental impact on guest experience.
Please be considerate of others who may feel differently about the risks of COVID-19. In keeping with Government guidelines face masks are optional. However, the government suggests that you continue to wear one in crowded and indoor spaces where possible. We would agree with this.
Butlins are maintaining enhanced cleaning measures and air circulation.
With regard to your booking, you are covered by our COVID Protection Guarantee so that you can book for Skegness or Minehead with confidence. This will enable you to cancel your Butlin's booking for any COVID-19 related reason, such as self-isolation or lockdown, and you will be given your money back. Click the link to learn how to claim on the Covid Guarantee.
Our terms and conditions
To view all of our terms and conditions please visit our Ts&Cs page.
Check In
Both Skegness and Minehead have drive-through check-in's. If you are part of a group you don't all have to arrive together, and groups organisers no longer have to pick up all keys - you'll just need the group booking reference and your own surname (not the group organiser's surname) and you can pick up your own keys and arrival pack.
Finding your way around
We thought a map on a phone would be quite fiddly so there is no map on the Event App, but you'll be given a printed map of the site when you arrive. On the back of the map you'll find a mini programme - so if you don't have a smart phone you can still see the programme and find your way around.