Speaker and Author, Malcolm Duncan introduces us to the Flipped theme and the book he wrote on this theme. The video and PDF of questions is a great way to explore Flipped with your small group, bible study group or congregation. Watch the second part of this video series below. The discussion questions PDF for session 2 can be downloaded here.
Another Mother is a podcast on faith and motherhood from My Spring Harvest and Emma Borquaye. Subscribe to hear conversations full of practical wisdom to help you on your journey of raising little ones, the way that God intended - with all the joy!
For each episode of Another Mother, Emma has pulled together some helpful resources that run alongside her conversations. They will help us explore the themes from the podcast more, whilst seeing what has inspired Emma and her guests.
Resources: Episode 2
I recently read a book called 'Family Revision' with the sub-heading; 'How ancient wisdom can heal the modern family' and my eyes were opened to a completely different approach to parenting that I had never really considered.
I think we are in an exciting time where parenting approaches and family dynamics are evolving, so for episode two of Another Mother I was excited to chat to Gabes and Anna Deku about the challenges of balancing work and parenthood, and making deliberate choices around intergenerational living and instilling the values that are important to them.
They shared some of the resources that have helped shape their journey, including;
Book: The Meaning Of Marriage by Tim Keller
In The Meaning of Marriage, co-authored with his wife, Kathy, Tim Keller turns his attention to that most complex of matters: our need for love, and its expression in marriage. Beginning with the biblical narrative, and its pictures of marriage that span the original ideal to the broken to the redemptive, he looks at themes of friendship and commitment; the completion of men and women in each other; singleness, sex and divorce; and ministry and discipleship within the context of marriage.
Podcast + Instagram: Family Teams
Podcast: Five Minute Fatherhood
Jeff and Jeremy take five minutes every day (M-F) to chat about quick tips and encouragements that will equip you as you build your multi generational family team on mission!
Chatting to Gabes and Anna reminded me that parenting is a continuous learning experience, and that by drawing from different perspectives and resources, we can navigate the challenges with greater resilience and joy. If you haven't listened yet, I hope you enjoy the conversation, and if you have listened and loved it, please do share the episode!
Another Mother is a podcast on faith and motherhood from My Spring Harvest and Emma Borquaye. Subscribe to hear conversations full of practical wisdom to help you on your journey of raising little ones, the way that God intended - with all the joy!
For each episode of Another Mother, Emma has pulled together some helpful resources that run alongside her conversations. They will help us explore the themes from the podcast more, whilst seeing what has inspired Emma and her guests.
Resources: Episode 1
In the first episode of Another Mother I sat down with my husband Isaac (also known as Guvna B) and chatted all things family life. We covered a lot of ground, including the birthing pool experience, navigating our differences, and we want to talk to our children about the ones we have loved and lost.
Good Grief
Isaac's dad, Charles, passed away around 18 months before Ezra was born. In the early stages I had no idea how to support someone facing such a sudden loss so I read quite a lot of books to try and gain some helpful insight. One of the books was 'Good Grief' by Granger E Westburg- I highly recommend it! I read that often when someone is grieving, there is a fear that this person they loved so much will be forgotten, which is why sharing happy memories of a person that has positively impacted our lives can be such a helpful part of the grieving process, yet it's something we shy away from either as the person grieving because you don't want to impact the general mood, or as the friend supporting because you worry you might make something worse. I took this advice on board so from pretty early on we were intentional about talking openly about all the lovely things we remember about Charles, whether that was watching F1 and saying 'ah my Dad would love this!' or 'remember that day we were playing articulate with all the family and it was your dad's turn to do the describing and he was doing it so slowly and we couldn't stop laughing!'
Where Grandad Lives
However when I fell pregnant with Ezra, I knew that this new season would bring up different challenges for Isaac as we welcomed a brand new life into this world who would have never had the opportunity to meet Charles and make memories of his own. So, I decided I would write a book that we could read to Ezra, that had all our favourite happy stories in it so that Ezra would grow up with a sense of knowing the man his Grandad was and how his legacy and impact could continue to live on through us all.
Life quickly got in the way and the book didn't get written, but I eventually told Isaac about the idea and as the 'make it happen' kind of guy he is, within minutes he had planned how we could turn this in to a children's book that doesn't just help our family to keep the memory of his dad alive, but to help families everywhere have those beautiful, healing, conversations with their children as they share memories of those they have loved and lost.
This is when 'Where Grandad Lives' was born! We based the characters on Ezra and his friend Zadie, and the story goes on a little journey that starts with Ezra sharing that his Grandad lives somewhere really special. His friend Zadie is sure she knows where - but when all her ideas of special places are exhausted - she has to ask Ezra to show her... And Ezra shares what it's like when someone you love lives in the good, the bad and the hard to explain.
Our prayer is that this book will be as much of a helpful tool for families navigating grief and loss as it has been for us.
Where Grandad Lives is due to be released on June 8th 2023 and is available on the Spring Harvest store to pre-order now!
Speaker and Author, Malcolm Duncan introduces us to the Flipped theme and the book he wrote on this theme. The video and PDF of questions is a great way to explore Flipped with your small group, bible study group or congregation. Watch the video below. The PDF can be downloaded here
Patrick Regan and his organisation, Kintsugi Hope hosted a special after-hours event at Spring Harvest in Minehead this year. Speak Honestly talk show is all about promoting openness about mental health, grief, anxiety and more.
Click the link below to watch the first episode. You can watch the other episodes recorded at SH 2023 on our content streaming website, EC-GO.
It might be your relaxing hobby or it might be your Spiritual Discipline – but reading is a great way to invest in our walk with God.
We know choosing books can be tricky when time and resources are limited. To help you narrow it down, we've selected eight books that we love (four for adults and four for younger readers). These are based in our 2023 theme of exploring life in the upside-down Kingdom, finding that Jesus turns our expectations around. They're great to keep or give away. 
You could buy a few copies of Flipped and study them with friends as part of the Big Church Read. https://thebigchurchread.co.uk/flipped/
Flipped: the Upside-Down Kingdom in Matthew's Gospel – Malcolm Duncan
The Beatitudes: Bible Study Workbook – Beatrice Smith
Why Less Means More – Cathy Madavan
This is That: How to see the kingdom of heaven in every day living – Martin Young
Big Start Annual 1
Wow! Jesus – Martha Shrimpton
Known – Philippa Hanna
Whistlestop Tales: Around the World in 10 Bible Stories – Krish and Miriam Kandiah
These are all available from www.springharvest.shop  
Wider Recommended Books
We hope you find this list helpful. It's a starting point with suggested books we think you will enjoy and might be a blessing.
Younger Readers:
Good News Bible: Family Edition – Bible Society
Planet Protectors – Ruth Valerio and Paul Kerensa
Whistlestop Tales: Around the Bible with 10 Extraordinary Children – Krish & Miriam Kandiah
God Cares Series – Debbie Duncan
Theology, testimony and practical living:
The Other Side of Hope; flipping the script on cynicism and despair and rediscovering our humanity – Danielle Strickland
A Beautiful mess; how God recreates our lives – Danielle Strickland
Walking With Jesus in Strange Places – John Swinton
Upside Down Kingdom – Donald B Kraybill
Meeting God in Matthew – Elaine Storkey
Every Tribe: stories of diverse saints serving a diverse world – Sharon Prentis
Multicultural Kingdom: Ethnic Diversity, Mission and the Church – Harvey Kwiyani
Invisible Divides: Class, Culture and Barriers to Belonging in the Church – Natalie Williams and Paul Brown
Still Standing - 100 lessons from an 'unsuccessful' life - Tola Doll Fisher
Resilient – Sheridan Voysey
From Guns to God – Claud Jackson
Worship for Everyone – Nick and Becky Drake
Talking to Children About Race – Loretta Andrews
Talking to Children about Mental Health – Lily Jo
The Life you Never Expected: thriving whilst parenting special needs children – Rachel Wilson
Just Leadership – Simon Barrington and Justin Humphreys
You can help the church in the Middle East put hope at the centre 
Hope is a powerful thing – something that Father Daniel from Iraq knows well. "I come from a generation which has never known peace," he says. "I grew up in the middle of persecution, in the middle of wars. And all of this shaped me into who I am today."
He grew up in 1990s Iraq, a country where Christians are discriminated against and targeted for their beliefs. On his 16th birthday, his family received a death threat from radical Islamic groups in Baghdad: "The threat was a paper wrapped in a bullet and dipped in blood. It was written in the threat that we need to leave in 24 hours, otherwise we are going to be killed. So we left by that night, I remember. It was very difficult for me to leave my friends, my school, my relatives, my home, my room. All of this left me feeling that I was lonely. No one was there for me."
Father Daniel was only a young priest in Erbil when, in 2014, Islamic State invaded large parts of the country. "When I was 24 years old, ISIS came to Iraq," he recalls. "Many Christians started to leave their homes, because they were coming and invading their houses and their towns and cities."
But Father Daniel courageously stayed behind to take care of the believers and refugees who wouldn't – or couldn't – flee. "My church became a shelter for more than 1,600 families – Christian families. But at the same time, many parish members from my church, they started to migrate and leave the country, going to Jordan, to Turkey. I started my ministry with 120 families in 2014, but now we have only 30 families which remain."
"You helped us go through dark times"
In 2015, a Spring Harvest offering helped Open Doors partners provide relief aid and trauma care to many. "Your supporters helped us from the beginning to go through all of these dark times," Father Daniel says. "And they were the light which came to us from nowhere. They helped us through so many projects which gave hope to us, like the trauma healing training and the leadership training, and also the Bible studies and so many other activities that we've done with their help."
This year, Iraq is number 14 on the Open Doors World Watch List, which ranks the 50 countries where Christians face the most extreme persecution. The country's Christian population has dwindled considerably due to conflict and terrorism – more than 80 per cent have fled the country since 2003. While so-called Islamic State (IS) have lost ground, militants are still very much active, and Christians continue to face threats and persecution from them. Believers also face discrimination from government authorities.
But our sisters and brothers in Christ continue to proclaim the hope of the gospel across Iraq, raising neon crosses above their homes and churches that shine out in defiance of the darkness around them.
Despite the struggles Christians face, Father Daniel knows that the hope of Christ is at the centre of the survival of the church. "I have learned through the years that it's not about the number of people, but it's all about the strength of faith that they have," he says. And, with your prayers and support, the church can continue to be a beacon of hope to the whole of the Middle East.
"We ask our brothers and sisters not to forget us and to stay in solidarity with us," Father Daniel says. "We ask the global church to pray for us and to support us and to speak on our behalf."
We're at Spring Harvest this year
Father Daniel will be speaking at Spring Harvest this year, and you're invited – stay tuned for dates and times. You can also find out more at the Open Doors stand – just look for the neon cross!
For more information, go to opendoorsuk.org/springharvest
Looking for Christian resources for your home group, church service or even your own personal daily devotional times?
We want to introduce you to our new resources website. It's called EC-GO.
EC-GO is Essential Christian's brand-new website for Christian teaching and resources. The website offers a collection of Christian resources to help inspire, encourage and equip you in your faith; all accessible on smart phones, tablets, laptops and desktop computers.

All you need to do is sign-up to discover exciting, helpful, and insightful videos and audio recordings specifically chosen to help you grow and enrich your home-group, church, or individual relationship with God. We also offer a growing library of home group content to use alongside the video and audio recordings containing inspiring thoughts, discussion starters, associated resources and more are all there for you to dig deeper into the excellent featured talks.

Simply 'Discover. Grow. Go.'

Since EC-GO went live in June we've been asked several questions. Below are the answers to those FAQs.

Why have you created EC-GO?

At Spring Harvest we want to equip the church for action, not just at Easter time but throughout the year. Equipping the church for action starts with you. The church is made up of millions of people just like you. You matter. Your spiritual life matters. Whatever you feed, grows. EC-GO is all about nourishment, the nourishment of your spiritual life.
Your spiritual life is directly linked to your everyday experience of life. And in that everyday experience we all go through seasons: seasons of growth, seasons of struggle, seasons of celebration, and seasons of lament.
With that in mind, we have brought years of event videos and audio recordings into one place online to form one big library of teaching resources. These teaching resources cover a number of topics for every season of life. In the past we have sold cassettes, CDs, DVDs and USB sticks at our events. We will selectively continue to do this but EC-GO will be the place where new event content will all be available, ready for you to listen to and watch.
Why is it called EC-GO?

'EC' stands for Essential Christian. This is the name for our group of organisations whose aim it is to resource the church for action. Spring Harvest is part of the Essential Christian group. This is why many videos and audio recordings on EC-GO are from past Spring Harvest events. The second part of the name, 'GO', refers to how we hope you use the resources on EC-GO – on the move.

We hope that you are inspired, encouraged and equipped by these resources to go out into your communities, workplaces and schools and spread the good news of Jesus.
What is available on EC-GO?
We have lots of exciting content already live. When you sign up you can expect to find teaching videos and audio recordings, homegroup materials, children's group resources and much more. New home group resources are uploaded monthly. When you sign-up to EC-GO we'll send you a monthly email telling you about the new resources we've just uploaded and what is coming in the near future.
How much does a subscription to EC-GO cost?
EC-GO costs £5.99 a month or £65 per year.
When will my subscription to EC-GO start?
When you sign up we'll authorise your account and then you're good to go! Your subscription to EC-GO lasts for a year.
Will Spring Harvest Home 21 content be included?
Yes! Selected Spring Harvest Home 21 videos and audio are available on EC-GO.
We're so excited to have launched EC-GO earlier this year and we hope God blesses you through the resources on the website.
Click below to register for a subscription to EC-GO.
Here at Spring Harvest, we partner with several Christian organisations from around the world. One of those organisations is Open Doors. We're incredibly proud and excited to help our friends at Open Doors reach more people with their message.
It's our privilege to stand with them in their mission to serve and support persecuted Christians and churches worldwide.
As we reflect back on so many special moments from Spring Harvest Home 21, perhaps one of our favourite highlights was standing together with them to help provide vital support to the plight of 1,000 secret Christians.
In fact, you may also remember that truly breathtaking moment when Helen Yousaf not only led us in worship but created a prophetic masterpiece.
This prophetic work of art, titled 1,000 Secret Believers, depicted our persecuted brothers and sisters living in countries where they are unable to freely live out their faith.
It represented their stories of turmoil, rejection but also redemption in the hands of God.
Thanks to your incredible response during our online event, Open Doors has been able to support 249 secret believers across the globe – thank you so much!
As we continue to stand together in our shared vision to support God's global church, there is so much we can learn from our persecuted brothers and sisters.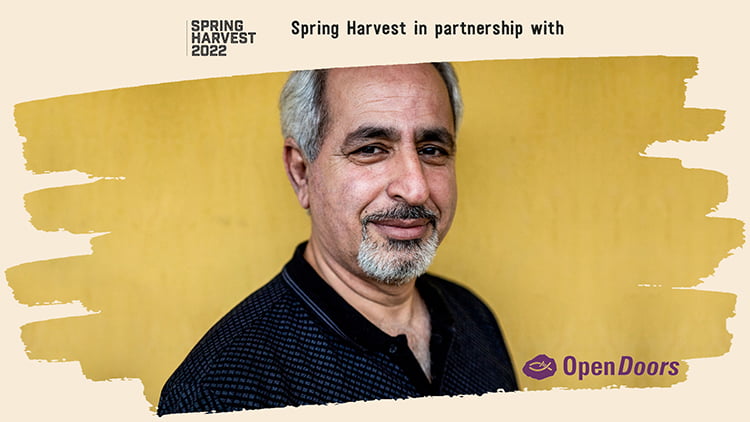 Taher's Story:
Living in the Middle East, Taher is one of many secret Christians who has courageously been living his life for Jesus. Now he is sharing his story.
When Taher's faith was discovered and the secret police took him away, he was faced with the unimaginable choice of either giving up the names of his Christian friends or seeing his whole family imprisoned.
Even when Taher was tortured and threatened, he stood firm in his faith, being comforted and strengthened in the truth that God was his rock and salvation.
You can watch the whole of Taher's story below.
No Christian should face persecution alone - and thanks to your incredible response at Spring Harvest 2021, Open Doors is meeting secret believers like Taher at every stage of their journey, offering practical and spiritual support.
While you'll hearing lots more from Open Doors throughout their year, we're particularly excited to have them join us safely in-person for Spring Harvest 2022.
As we delve deep into our new event theme: Restore, Renew, Rebuild, we can't wait for them to share wisdom and insight on this theme within the context of the persecuted church.
Until then, will you help us continue the mission to reach at least 1,000 secret believers who are daring to share Jesus no matter the cost? Be part of their story today.
Have you ever wondered about what it costs to follow Jesus? Here in the west, we are free to read our bibles, pray and meet with other Christians safely and legally. But what about Christians who live in countries where following Jesus is against the law?
This week, Open Doors Emma Worrall, explains the true cost of following Christ in countries where it is dangerous or illegal to be a Christian.
Think of your church.
Now, first, imagine that you can't meet in person.
That won't take a big stretch of the imagination, given the past year, and how 2021 is shaping up. But now imagine you don't even know who the other members of your church are.
Isolation. Being alone is a part of your everyday experience. Imagine meeting to worship knowing it's potentially dangerous, deadly even.
Imagine knowing your every move is watched. How would anybody find out? People in your neighbourhood would be trained to spot you. They wouldn't just be looking for signs that you met with other believers – they'd be trained to spot if you closed your eyes briefly before eating food, or inadvertently hummed a Christian song. Even your children might give the game away. They would be told to inform their teachers if they see you reading a little black book.
Open Doors secret fieldworkers are supporting Christians who've managed to flee to China, through underground networks.
Since 2002, North Korea has been the most dangerous place to be a Christian. And it still is. North Korea tops the 2021 Open Doors World Watch List – the list ranking the 50 most dangerous places to be a Christian.
But it's certainly not the only country where Christians face extreme persecution. In many countries – including Eritrea, Iran, Afghanistan and Somalia – secret Christians know that they could be imprisoned, tortured or even killed if their faith is discovered.
Will you show love to your worldwide family facing persecution for choosing to follow Jesus?
You can discover the top 50 countries where worshipping Jesus really costs and fuel your prayers this year for persecuted brothers and sisters and let them know they're not alone. Not alone. Not forgotten. Not ever.
Click the button below to learn more about the incredible work Open Doors are involved in.
Spring Harvest Home 21 is excited to be partnering with Open Doors this year. We stand with them as they help to resource Christians across the world in some of the most dangerous places to follow Christ.
Open Doors works in over 60 countries, supplying Bibles, training church leaders, providing practical support and emergency relief, and supporting Christians who suffer for their faith. In the UK and Ireland, Open Doors works to raise awareness of global persecution, mobilising prayer, support and action among Christians.