Here at Spring Harvest, we partner with several Christian organisations from around the world. One of those organisations is Open Doors. We're incredibly proud and excited to help our friends at Open Doors reach more people with their message.
It's our privilege to stand with them in their mission to serve and support persecuted Christians and churches worldwide.
As we reflect back on so many special moments from Spring Harvest Home 21, perhaps one of our favourite highlights was standing together with them to help provide vital support to the plight of 1,000 secret Christians.
In fact, you may also remember that truly breathtaking moment when Helen Yousaf not only led us in worship but created a prophetic masterpiece.
This prophetic work of art, titled 1,000 Secret Believers, depicted our persecuted brothers and sisters living in countries where they are unable to freely live out their faith.
It represented their stories of turmoil, rejection but also redemption in the hands of God.
Thanks to your incredible response during our online event, Open Doors has been able to support 249 secret believers across the globe – thank you so much!
As we continue to stand together in our shared vision to support God's global church, there is so much we can learn from our persecuted brothers and sisters.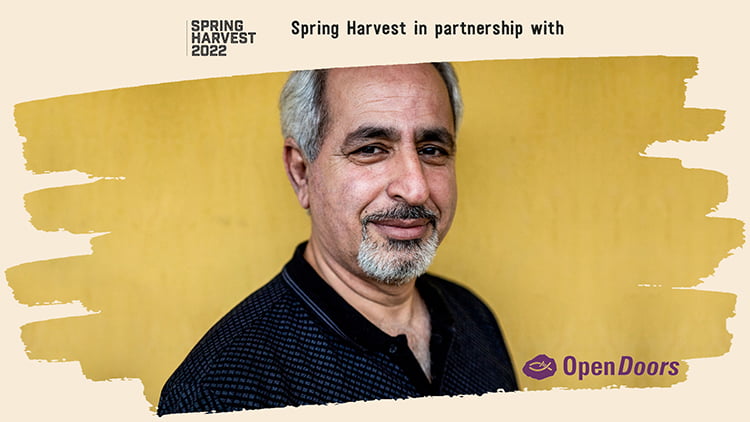 Taher's Story:
Living in the Middle East, Taher is one of many secret Christians who has courageously been living his life for Jesus. Now he is sharing his story.
When Taher's faith was discovered and the secret police took him away, he was faced with the unimaginable choice of either giving up the names of his Christian friends or seeing his whole family imprisoned.
Even when Taher was tortured and threatened, he stood firm in his faith, being comforted and strengthened in the truth that God was his rock and salvation.
You can watch the whole of Taher's story below.
No Christian should face persecution alone - and thanks to your incredible response at Spring Harvest 2021, Open Doors is meeting secret believers like Taher at every stage of their journey, offering practical and spiritual support.
While you'll hearing lots more from Open Doors throughout their year, we're particularly excited to have them join us safely in-person for Spring Harvest 2022.
As we delve deep into our new event theme: Restore, Renew, Rebuild, we can't wait for them to share wisdom and insight on this theme within the context of the persecuted church.
Until then, will you help us continue the mission to reach at least 1,000 secret believers who are daring to share Jesus no matter the cost? Be part of their story today.