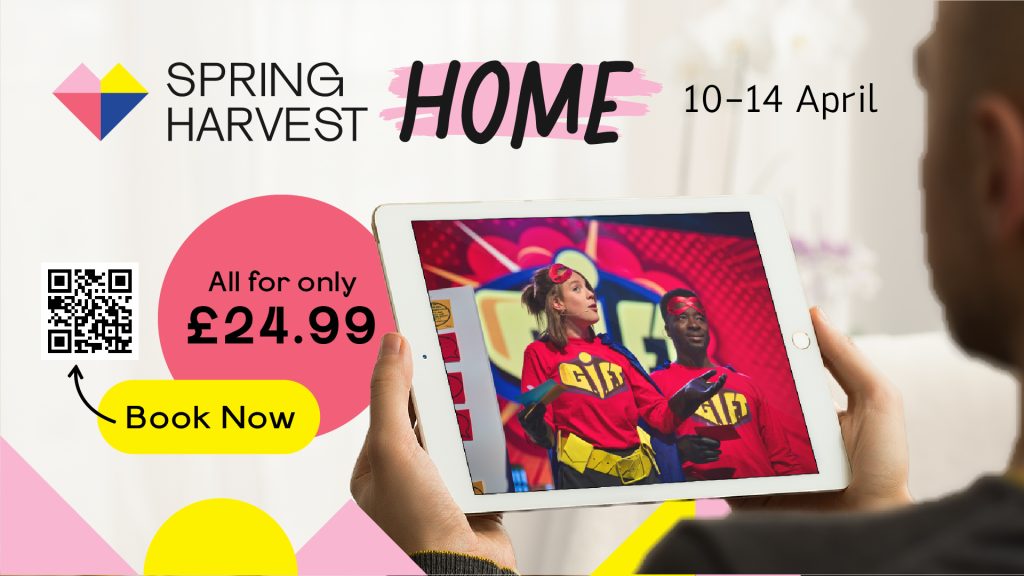 Did you miss the action? Great news you can watch it for the first time or watch it all over again. Spring Harvest Home came back again in 2023! Five days of worship, teaching and interaction from your comfy place!
We livestreamed from Studio 36, the largest venue in Minehead, from Easter Monday 10th of April through to Friday 14th of April.
With an internet connection and any device to watch on, you'll be able to enjoy all the key sessions. We start the day with the Big Start all-age bonanza, followed by two different in-depth Bible teaching sessions taking you up until lunch. Then there's the evening celebration of worship, prayer and inspiration and a small variety of pre-recorded sessions to watch on-demand. All this with your very own live hosts in-between the sessions... and believe us, we laughed a lot this year with all of the fun had in the studio.
This is a great way to get a flavour of what Spring Harvest felt like in 2023. British Sign Language interpretation is available on all the live content and live captioning on everything coming from the stage. with a Spring Harvest Home ticket you get to experience great content from Spring Harvest from wherever you are and however works best for you.
We know life is expensive, so this year the price has halved to £24.99. You get five days of worship, teaching, community, encouragement and inspiration for less than £5 per day. Catch up for two weeks afterwards - up until the end of April. Once you've bought your ticket, you'll be sent the link to login with your email address and password. Spring Harvest Home can be watched anywhere with wifi, in any browser – or cast to (some) TV's. 
A Spring Harvest Home Story
This new ministry makes the Spring Harvest event and content far more accessible to a much larger number of people. Owen writes: "I live in Shetland and attending Spring Harvest is always a major challenge due to some personal circumstances and [travel]. It is a 12-14 hour ferry crossing or a flight, and then a long way via road or rail and so costly in money, time and carbon emissions. In the 13 years I have lived here we have been to SH just twice."

"Every year I try to encourage my church to sign up to this wonderful service that helps make SH much more accessible to us… I suggest that those who sign up try and treat it as much like SH as possible - grab a coffee and browse the online bookshop and imagine you're in the skyline! …We [as churches in Shetland] could arrange our own activities during the afternoon… and come together for it."
You will hear teaching from Professor John Swinton, Rachel Gardner and more, with worship from Lou and Nathan Fellingham and Sarah Teibo. Your hosts will include Sheridan Voysey, Beatrice Smith and Sarah Whittleston.
We really hope you can join us this year, for Spring Harvest Home.
What is Spring Harvest Home '23
Spring Harvest Home is an online event streamed at the same time as our physical event in Minehead. It will be shown on our online event website and will only be accessible to people who have bought a ticket.
When is Spring Harvest Home '23 happening?
10th - 14th April
How much does it cost?
This year, we know that life is more expensive. That's why we've slashed the price of SH Home to £24.99. That's 50% off last year's price.
How long will I be able to watch the videos from Spring Harvest Home after the event is finished?
All videos will be available to watch until the 30th April 2023. At that point, all videos will move permanently to our teaching resources streaming website, EC-GO.
How many devices can I use my SH Home ticket on at the same time?
You can use your ticket to log in to two different devices at the same time. This means that another person can watch SH Home'23 on their device too!
How do I log in to the event once I've purchased a ticket?
When you buy a ticket, we'll keep you updated with important details such as how to log-in and how to make the most of your Spring Harvest Home experience. We're still getting the streaming website ready so that you have a great time with us.
When will the streaming website be live?
More details to follow, we'll email you about this when you buy a ticket.
I'm coming to Spring Harvest at Butlins, do I get free access to Spring Harvest Home?
In 2023, the only way to Spring Harvest Home will be buying a ticket for £24.99. Anyone is welcome to do so and all the content (including talks, worship, interviews, prayer and banter) will be there until 30 April. You can buy at any time from any place, even from Butlins if you have a device and enough data or wifi. Please note, Spring Harvest Home will only be providing streamed content from Studio 36 in Minehead along with great live hosting. There will not be extra teaching sessions from other venues. There will be a handful of seminars, but these will also be made available on our YouTube channel and will not be exclusive.
If what you would really like to see again is the talks, these will all be available in two other ways that you might find better value for money. The talks will be available digitally (forever) on EC-GO. It includes content from both sites and many further sessions from smaller seminar venues, both from this year and past years. An annual subscription is usually £65 but it will be sold for £30 as a special event offer. We will also be making available a USB stick of all the teaching from this year's event (one for Minehead and one for Skegness) at an event price of £35 each or £60 for two.
The history of Spring Harvest Home
Pioneering in the 2020 Lockdown, Spring Harvest Home brought you as much of the event as we could with three weeks' notice. During that event we received amazing stories of God moving in people's lives as we equipped the church through YouTube and saw 187,000 devices connect and 250,000 hours of teaching watched in that week.
It was truly amazing and to know that God touched lives even though we couldn't be together was awe-inspiring. Again in 2021, we had to make the call to just be online as lockdowns once again hampered our hope to be together. This time we had developed our own digital platform 'CrowdConnect' and were able to deliver our event from 4 locations simultaneously to reach thousands online and on demand. We had worship leaders from 5 countries join us and our event was picked up and broadcast live not only on the internet but also on the radio through UCB.
In 2022 we streamed live from Minehead overlooking the beach. Over 4000 people joined us online!