Administration Team
Both Minehead and Skegness teams are now full.
Volunteering in the Team Office alongside our staff team puts you right at the administrative centre of the event. The role can be extremely busy at the start of the break as we welcome team and guests to the event. During the rest of the week, there is a wide variety of administrative tasks to be fulfilled and errands to be run.
You will have a good opportunity to get to know your fellow volunteers and time to enjoy the Spring Harvest programme together when you are not on shift.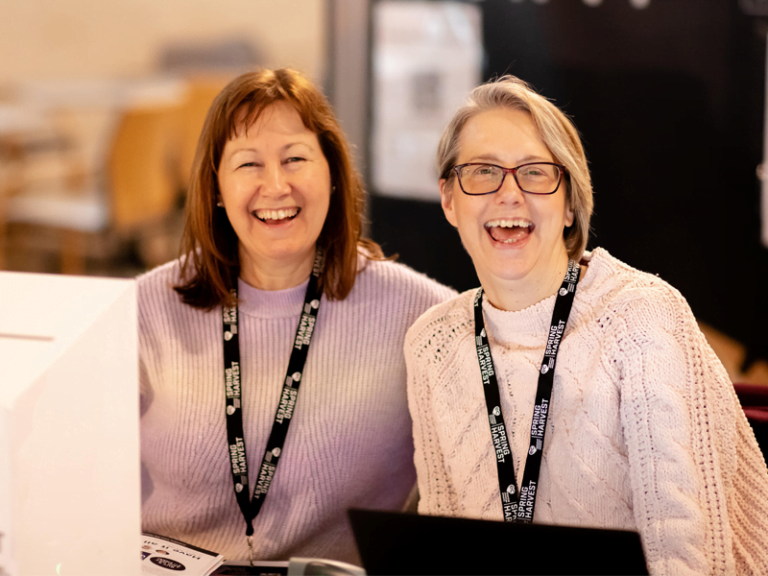 Role Description
WHAT YOU COULD BE DOING:
Being a friendly face when team and visitors approach the 'Welcome' desk
Dealing with requests for information
Operating the radio base
Answering phone calls and relaying messages
Data entry
Creating posters
Assisting team members with their accommodation queries
Greeting and escorting visitors to their accommodation
Photocopying
Running errands around the site and shopping (may involve driving)
WHAT YOU WILL NEED:
A positive, helpful manner
An efficient and flexible attitude to working in a busy office
Good communication skills
Working knowledge of MS Office (Windows 8 as a minimum)
Experience using general office equipment (e.g. photocopiers)
The ability to prioritise tasks
A clean driving licence would be beneficial (please bring with you)
Experience of using radios (but not essential as training given)
Enthusiasm for team work
Physical stamina for running errands across the Butlin's resort
WORKING PATTERN:
A typical day will be split into two or three shifts to be worked between the hours of 8.30am and 10pm
Additional shifts may be needed for set-up and pack-down of the event
There will be time in between shifts for you to enjoy the programme
VOLUNTEERS MUST BE:
Over 18 years of age
A committed Christian, regularly and actively involved in a local church
Able to complete an online application and provide church leader referee details
Happy to serve within the EA Basis of Faith and Lausanne Covenant
VOLUNTEERS WILL RECEIVE:
Free team accommodation
Three meals a day
Travel expenses up to £80
If you have any questions please contact Sarah Driscoll:

Apply now
Join our newsletter
Stay up to date with all the latest from Spring Harvest
My Spring Harvest
Join our online community to get access to free songs, resources, downloads and more!
MY Spring Harvest
If you aren't a MySpringHarvest member you're missing out on resources, songs, videos, and more. Join now to get all of our latest news and loads of free goodies!
Sign up now for free