Spring Harvest Stand Team
Skegness and Minehead teams are now full.
Volunteering on our My Spring Harvest Stand Team will put you right on the frontline serving our guests. The role is extremely busy as guests arrive with all their questions and then throughout the week, based in a high-profile area within the exhibition. You will have incredible opportunities to engage with our guests, talking to them about everything we offer with My Spring Harvest… and plenty more.
You will have a good opportunity to get to know some of our core staff team and time to enjoy the Spring Harvest programme when you are not on shift.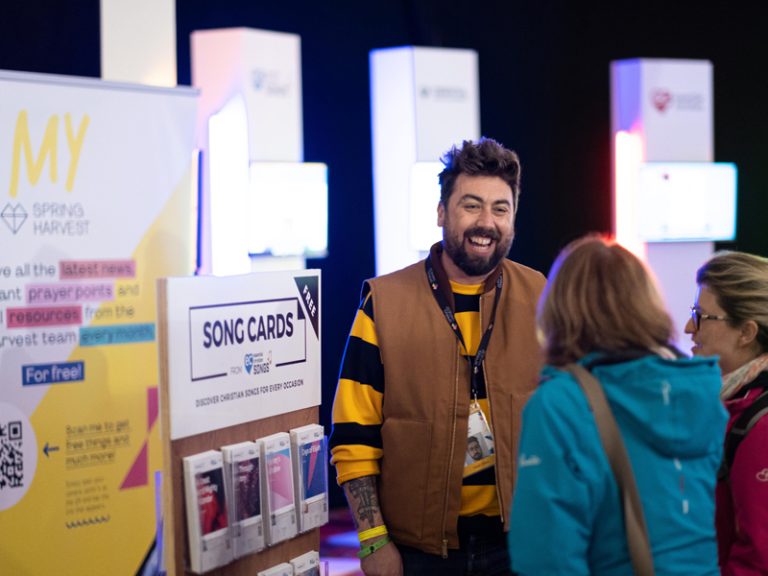 Role Description
WHAT YOU COULD BE DOING:
Being an enthusiastic and welcoming face when guests approach the stand
Resolving queries about the programme and location of places on the resort
Actively engaging with guests about the benefits of My Spring Harvest
Assisting with technical problems on mobile devices
Listening patiently and responding professionally when guests are dissatisfied
Overseeing sign-up opportunities for sports activities and workshops
Selling resources
Assisting guests in giving to Spring Harvest
WHAT YOU WILL NEED:
Be a quick learner
Patience, positivity, resilience and helpfulness
Excellent verbal communication skills
Technical competence and confidence with apps, wifi, mobile devices
Enthusiasm and energy around problem solving
Be a good team player
Physical stamina for working long hours on your feet
WORKING PATTERN:
A typical day will be split into two or three shifts to be worked between the hours of 9am and 10pm
Additional shifts may be needed for set-up and pack-down of the event
There will be time in between shifts for you to enjoy the programme
VOLUNTEERS MUST BE:
Over 18 years of age
A committed Christian, regularly and actively involved in a local church
Able to complete an online application and provide church leader referee details
Happy to serve within the EA Basis of Faith and Lausanne Covenant
VOLUNTEERS WILL RECEIVE:
Free team accommodation
Three meals a day
Travel expenses up to £80
If you have any questions please contact Sarah Driscoll:

01825 746505 | volunteers@springharvest.org
Apply now
Join our newsletter
Stay up to date with all the latest from Spring Harvest
My Spring Harvest
Join our online community to get access to free songs, resources, downloads and more!
MY Spring Harvest
If you aren't a MySpringHarvest member you're missing out on resources, songs, videos, and more. Join now to get all of our latest news and loads of free goodies!
Sign up now for free